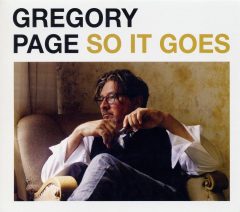 SO IT GOES--Gregory Page
It's an often told tale that young Gregory Page, having no interest in academics or a future in business, developed a fascination with his grandfather's 78 rpm records. It's a quirky tidbit, hardly worth the mention for the more conventional lives of lawyers, clerks, and cashiers, but it merits attention in discussing the intriguing Mr. Page. No mere rocker or folkie savant, he's an agile channeled of music styles gone by. Jazz ballads, torch songs, gospel-tinged testimonials, elements of folk and such things, Page is a man of constant dreaming, yearning, pining for the better day, an ironist who succinctly the perceived failures of his romantic expectations with a sense of irony and wit.
So It Goes
, his newest release is a rich and textured set of original songs by Page, each song radiating a soft-focused nostalgia, the softly curving turns of Page's melodies framing his supple voice that reveals his capacity as an expressive singer. He is a crooner in the great tradition of vocalists who perform their songs not so much as professionally renditions of harmony and lyric, but rather as a short drama, a lyric short story.
The aspect of Page's singing grabs me is the way he varies his emphasis, line by line, never losing the golden tone but seeming to sense how a change in how a line is sounded, waxing poetic with a quivering warble on one image and then undercutting his own regret with an ironic aside by lightening his approach, lifting his voice up to an optimistic pitch. It is, over and over, Page's theme that we're wed to the past and cannot forget who and what we have loved and lost, but those memories cannot be allowed to turn us into bitter and grouchy lay-abouts.
More than once he declares the fundamental lesson, that our experiences make us who we are and that there is nothing to do but go on and embrace the life that unfolds in front of us. He is, of course, and speaking for himself and his own fancified recollections and insights, but the songwriter-songwriter is so adept at his craft and presentation that there isn't a hint of self-pity.
Page
is a fatalist, perhaps, but he is not a defeatist. The album's title,
So It Goes,
is a refrain from Kurt Vonnegut's novel , repeated at various points when the story's events undermine the vain philosophies of the protagonists; despite plans and preparation, life itself upsets one's agenda and puts one in a position to reflect and rethink and create a reason to get back in the game.
__________________________________________________________________________________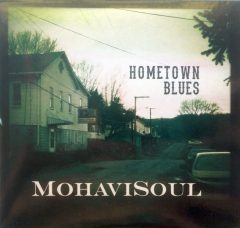 HOMETOWN BLUES--Mohavisoul
You may find yourself scrutinizing the information on the sleeve MohaviSoul's new release, Hometown Blues, to see if any members hail from regions that would qualify them as authentic mountain folks. It turns out to be a case of simulacra, but it is worth remarking that this ensemble has a sound that is not what you'd find in the usual soundtrack of a surf-and-sun, postcard-perfect day. MohaviSoul is making music that's catchy and obviously, honestly informed by a love for the Old Schoolers and the legacy they left for the world.
Neither laboriously beleaguered nor overly sunny, these are stories about the simple ironies and unexpected pains and pleasures a life brings us. MohaviSoul is a bluegrass band, storytellers of woe and joy and love found and lost as their heroes seek fortune and adventure and a better chance around the bend. Formed in Ocean Beach, the beach area's last outpost of the '60s idea of being distinct and true to one's one Thing, the interplay of guitars, fiddle, and dobro are bittersweet counterparts to the plaintive vocals of guitarist Mark Miller and mandolin player Randy Hansen, both of whom are also MohaviSoul's principal songwriters. They are palpable rustic; their chords and taciturn lyrics seemed to have been written in the dusty patina that would fall on the old, corroded truck these metaphorical minstrels would use to drive state to state searching for another day's wage.
The tunes are sufficiently rustic and soulfully rendered, a sequence of tales reminiscent of depression and dust bowl days; long, dry highways; train whistles; large regrets; and small joy. There is a strong, persistent sense that one shoulders their burden and moves onward, stoic, strong, accepting of what one has been handed throughout their adventures before and afterward. There is, as well, a remarkable lack of the pessimism one would expect from a genre predicated on a worldview that borders on the bleak and despairing. The allure of bluegrass and mountain music and the appeal of Americana music in the largest sense are the tales of indomitable spirit and the willingness of the heroes to persevere and greet the next day, lessons learned, with a song and a strong, purposeful stride.
Superbly backed by the interlocking and buoyant mandolin from Hanson; the banjo work of Jason Weiss; and the subtly bittersweet colors, tones, and accents given us by special guests John Mailander on fiddle and Will Jaffee on dobro, the songs of Miller and Hanson are clear and poetically plain spoken, oftentimes declaring that whoever is listening to the varied tales of hardship, heartache, and the lot needs to heed the simplest advice: don't sweat the chump change. "
Gettie
Up," sexy as it sounds but more practical than it is randy, tells us to get on the beam when life becomes the trudge, while "Stay Tuned," a spritely, rollicking ramble, simply and subtly warns us to be pleasantly surprised when different and better outcomes result from what at first appears to be a grim and final dead end. MohaviSoul's music is swiftly seductive, full of foot tapping, shoulder moving tempos, simple music accomplishing profound emotional effects.