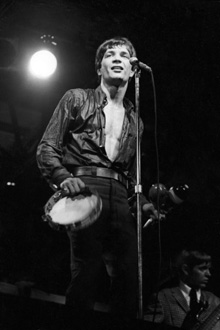 Mitch Ryder and the Detroit Wheels were a great, blistering rhythm and blues unit from the Sixites, with inspired, pumped up hits like "Good Golly Miss Molly/Jenny Take a Ride", "Sock it to Me Baby", and "Devil in a Blue Dress". Ryder had an unbelievably limited voice, perpetually hoarse, rasping, cracked and textured like old sandpaper: not suitable for more melodic fair, but perfect for the kind of Stax/Volt gospel shouting style that the band was influenced by, a sound wh
ere holy rapture was supplanted by a condensed and amplified eroticism.
The music was climaxing from the start, and every element, from the punchy piano chords, shotgun drum reports and open-wound guitar vamps underscoring the brilliantly realized desperation in Ryders' grunting, coughing, phlegm-coated singing style. This was the testimony of a man who knew he was down to the last seconds of the time he was allowed to plead his case. This is Love-As-Cardiac Arrest.
After the break up of the Wheels, little of what Ryder did was compelling. He did a solo turn on the hoary "What Now My Love", backed by over-the-top
orchestration
that tried to legitimize the brave but sad efforts of Mitch trying to hit and hold the right notes of the melody. An album recorded in Memphis yielded mixed results, hardly funky. He had another band called Detroit that had one album and a minor hit with Lou Reeds' "Rock and Roll".Later, an interesting turn. He released an album called, I believe, "How I Spent My Summer Vacation". It was all about buggery, and God bless him.